As of January 3rd, 2017, the visitor's parking at our building is now PAY-AND-DISPLAY PARKING.
There are 2 pay machines: one is located in front of the red hut in the current visitor parking area. The other is located near the south entrance to the building (the parking lot side of the building). The machine accepts CREDIT CARD or CHANGE (no bills). The parking fees are as follows: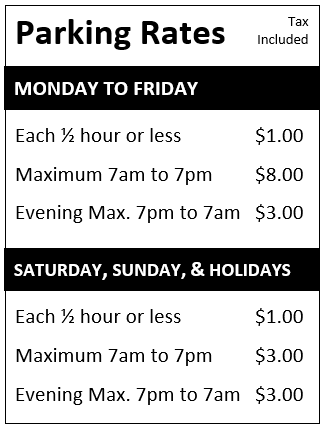 Alternatively, you can download and use the 'PayByPhone' parking app on your mobile device in order to pay for your parking. This is the same app used by the City of Ottawa to pay for parking at any Pay & Display spot in the city. PayByPhone parking allows customers to initiate and extend their parking sessions by making a phone call, using a mobile phone application, or logging in online. It is fast, easy, and convenient.

To pay for parking using the PayByPhone app:
Step 1: When you park

Smartphones: Register for your free account by visiting m.paybyphone.com or download the iPhone, Android or BlackBerry app.

Step 2: Enter location number

The location number for our building (2197 Riverside Dr) is 1408.

Step 3: Enter parking time

Select how long you would like to purchase parking for.

The parking cost will be automatically charged to the credit card associated with your account. You can also receive optional text message alerts to be notified when your session is about to expire (carrier rates apply) (see FAQ's below).

You can extend the length of your parking session without returning to your vehicle, but will be limited to the maximum duration permitted under local area parking restrictions. For example, you will not be permitted to extend the duration of your parking session beyond two hours in an area with a maximum two-hour time limit.
To learn more, visit https://paybyphone.com, or see FAQ's below.
Parking FAQ's
If I approach a Pay and Display machine and it appears as though it is not working, do I need to pay?
The Pay and Display machine is solar-powered and will "sleep" to conserve power, so when you are ready to do a transaction either push one of the buttons or insert your coin or credit card. Any of these actions will "wake" the machine up and you can purchase your ticket. If the machine is not functioning properly and does not provide a ticket, simply speak with Sam, the parking lot attendant, for further instruction.
How does the Parking Lot Attendant know I've paid by phone (PayByPhone app)?
The Parking Lot Attendant has access to a real-time list of paid vehicles and licence plate numbers in our lot through a handheld device.
Does paying by phone (using the PayByPhone app) cost extra?
Registering for an account is free. Normal parking charges and mobile phone rates apply, plus a service fee of 25 cents will be charged to your credit card per transaction.
Do text message reminders cost extra (PayByPhone app)?
Yes. A 10 cent fee will be charged to your credit card for each text message reminder. (Note: Additional charges may apply depending on your mobile phone carrier.)
Who do I contact if I'm having technical problems (PayByPhone app)?
A PayByPhone customer service representative can be reached at 613-691-1700, or by emailing (link sends e-mail)