Get fit in the comfort of your own home!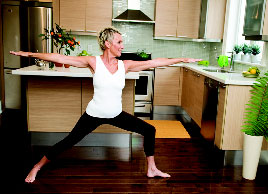 Busy schedules or packed gyms should never be a barrier to a fit and healthy lifestyle. To make strength & conditioning more accessible, David Witiluk, Registered Kinesiologist, is now be offeringat-home training sessions!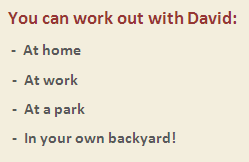 Whether your goal is to lose weight, increase muscle, or just for general fitness, David will work with you one-on-one, creating a complete training program designed to help you achieve your goals. There is no need to buy expensive gym equipment - the workout starts with you and your body! You won't have to fight over busy gym equipment or cramped space - David will come to you, allowing you to work out in a home setting that's both comfortable and convenient.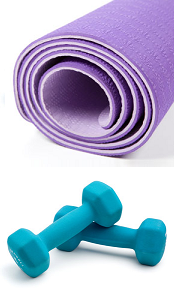 David will work to accomodate the time, space and equipment you have available to you. He'll also bring along specific workout gear, such as medicine balls, resistance bands, foam rollers, and workout mats, when needed.
The initial apointment will be a thorough evaluation, going through core stability, flexibility, mobility, strength, and movement patterns. From this, he'll create a customized program built specifically for your body. You'll continue with one-on-one coaching sessions, during which David will ensure you're performing exercises correctly and help to motivate you towards your goals. Programs can be modified as you progress, allowing you to get the most out of your training!
If you don't have the time to fight traffic and lineups at the gym, at-home training sessions are just what you're looking for! Nothing should hold you back from improving your fitness, and at-home training sessions make it that much easier to maintain the healthy lifestyle you want.
To book an appointment with David, or if you have any questions about at-home training sessions, send an email to , or call the clinic at (613) 521-3222