Educated in the assessment and treatment of sports injuries, athletic therapists are well equipped to deal with workplace injuries or other painful orthopedic conditions.
Using a thorough knowledge of anatomy, physiology and orthopedic special testing, an athletic therapist will identify areas of weakness, lack of mobility or other functional limitations. Treatments are then based on the proven track record of the sports medicine model.
Athletic therapists understand the needs and demands of an athlete and specialize in providing care for both the amateur and the professional athlete alike.
Specific reconditioning exercises are combined with soft tissue mobilization and other hands-on techniques. This provides an optimal healing environment for a safe and efficient return to sport or active living. After the first visit you should have a good understanding of your injury and know how to prevent future problems. This type of therapy is effective for treating both acute and chronic conditions.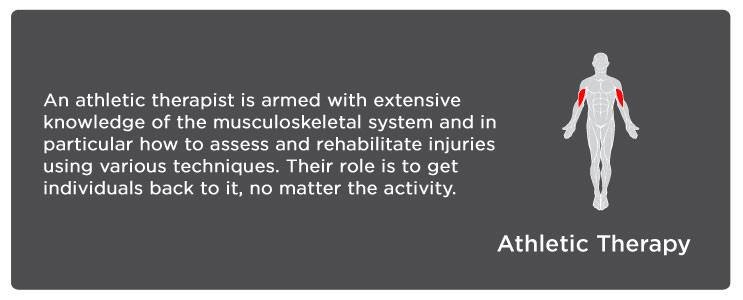 The Canadian Athletic Therapists Association (CATA) sets stringent certification criteria and outlines a clear code of conduct and scope of practice for all of its members. Continuing education of CATA members is rigorously monitored. This ensures that current therapy standards are in line with recent research findings and sports medicine practices. The Ontario Athletic Therapists Association (OATA) is the provincial chapter of the CATA.
Conditions addressed by Athletic Therapists:
manual treatment of orthopeadic injuries

acute injuries
sprains, strains
repetitive strain injuries (tennis elbow, golfer's elbow)
tendinosis, tendinitis, bursitis
back pain, sciatica (disc herniation, stenosis)
chronic conditions
carpal tunnel
post-surgery rehabilitation (ACL reconstruction)

biomechanical evaluation (gait, running)
postural assessments
strength and conditioning program
preventative care
prophylactic taping / bracing