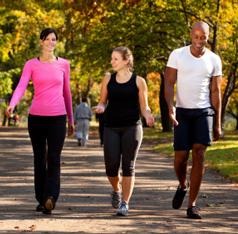 Physiotherapy involves the treatment of individuals of all ages to remove limitations in physical function. This can include pre- and post-surgery treatment, assessment for acute and chronic injuries, as well as recovery from sport- or work-related injury and motor vehicle accidents. Physiotherapists also play a vital role in promoting health and helping people maximize their function regardless of their age or physical ability.
The College of Physiotherapists of Ontario (CPO) sets strict guidelines for professional conduct, scope of practice and continuing education for all its members. As a regulated health profession, the CPO ensures the ongoing improvement of the practice of physiotherapists. Our staff continually updates their skill set by attending post-graduate courses in manual therapy and recent clinical research. This ensures that patient care and treatments remain current and, most importantly, effective.

Physiotherapy at Ottawa Osteopathy & Sports Therapy
Detailed physical assessments and specific treatment plans occur through one-on-one sessions. Using a global approach in assessing injuries, the physiotherapist aims to identify the origin of the pain in addition to treating the related symptoms. This allows for a shorter recovery time with less of a chance of reoccurrence of pain in the future.
What To Expect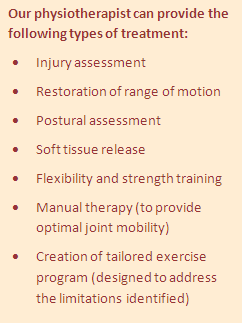 Your initial appointment will involve an in-depth assessment. This is comprised of a verbal component as well as a physical evaluation. Your health history will be taken, and the physiotherapist will discuss your injury/condition, how long you've had pain, if it's a chronic or acute condition, and more.
The physical assessment will involve specific muscle testing, as well as range of motion, flexibility, and strength testing. Additionally, the physiotherapist will observe your movement patterns, gait, and posture.
On your first visit, the emphasis is on identifying the origin of the pain. Manual therapy treatment (hands-on) during the initial appointment is time-permitting.
Follow-up appointments may be needed, during which the majority of time will be spent on treatment.
Treatment can involve manual therapy (soft tissue massage, joint mobilization, stretching the muscles), patient education, coaching on posture and proper movement patterns, and working through a personalized exercise program tailored to the nature of the injury.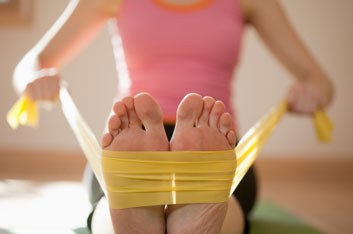 By the end of your initial appointment you should have a clearer understanding of your conditioning, and you will be given a home exercise program to work on. This exercise program will be tailored to your specific limitations and restrictions which were identified during the initial assessment. Injuries often occur as a result of improper movement patterns or functional weaknesses. An effective home exercise program will help to correct these movement patterns and strengthen your core and functional weaknesses. Exercises also help support the improved function coming from in-clinic manual therapy treatments. Taking a more active role in your recovery allows healing to progress faster and gives you more control over your pain.