Osteopathy coverage on insurance plans
How is osteopathy regulated?
Are all osteopathic manual practitioners the same?
Join Our Team!
What is osteopathy?
Osteopathic manual practice is a holistic approach to treating one or more problems. Based on anatomy, physiology and biomechanics of the human body, these treatments address the patient as a whole unit.
Using specific manual therapy (hands-on) techniques, treatments may focus on different areas such as the musculoskeletal system (bones, muscles and joints), the cranium (head, face and jaw) and the visceral system (internal organs).
These systems are evaluated for restrictions in mobility or vitality and treated according to a specific methodology called traditional osteopathic manual practice. As restrictions in the body are treated, normal function returns to the area and symptoms resolve allowing for a fast and safe return to sport or active living.
Some commonly treated problems:
Acute & chronic injuries
Digestive disorders (IBS, constipation, diarrhea)
Pre- & post-operative conditions
Excessive scarring post-surgery
Asthma
Heartburn, reflux
Bloating
Disc herniations
Nerve root impingements - (e.g. sciatica)
Scoliosis
Kyphosis
Ligament sprains (tears)
Muscular strains
Tendonitis, ruptured tendons
Joint instabilities
Medial & lateral epicondylitis
Bursitis
Shoulder impingement
Adhesive capsulitis (frozen shoulder)
Carpal tunnel syndrome
Leg length discrepancy
Facet irritations
Headaches and concussions
Pelvic pain
Menstrual pain, endometriosis
Sinusitis
Sports injuries, pain during running
Joint dislocations /subluxations
Restrictions in joint range of motion
Muscular weakness/atrophy
Core weakness or loss of flexbility
Central and lateral stenosis
Osteoarthritis
Tension headaches
TMJ (jaw) pain
Abnormal gait pattern
Nerve entrapments
Torticollis
Whiplash injuries
Fractures
Meniscal tears
Pregnancy-related back pain
Overuse injuries
General deconditioning
Did you recently receive a letter from Manulife or Sunlife regarding changes to your osteopathy coverage? The following information applies to you:
If your extended health insurance plan includes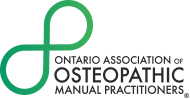 osteopathy services (typically referred to as "osteopath benefit") then receipts from all of the Osteopathic Manual Practitioners at Ottawa Osteopathy & Sports Therapy will be accepted for reimbursement, according to your plan's policies. All of our Osteopathic Manual Practitioners are members of the Ontario Association of Osteopathic Manual Practitioners (OAO). In the province of Ontario, the OAO has the highest educational and professional requirements for membership, and as such it is recognized by all insurance companies offering coverage for osteopathy services.

How is Osteopathy regulated in Ontario? Do all osteopathic manual practitioners follow the same educational training?
Osteopathy is not regulated in the province of Ontario, so it is important to verify the professional training of the practitioner you are seeing. The Ontario Association of Osteopathic Manual Practitioners, (OAO), promotes the highest standard of osteopathic education and training, as well as the highest, safest standard of ethical, osteopathic practice in the province.

The OAO adheres to the World Health Organization's (WHO) established minimum criteria for professional training to safely and effectively deliver osteopathic services. They are as follows:

• 4200 hours of professional training/education

• 1000 hours of supervised practice (included in 4200 hours)

At Ottawa Osteopathy & Sports Therapy, all of our osteopathic manual practitioners are members in good standing with the OAO and follow the WHO criteria.
Are all osteopathic manual practitioners the same?
No. Some osteopathic educational programs graduate their students with significantly less training than recommended by the WHO. As a result, they have a smaller set of treatment protocols and techniques but may still use the term osteopathy.

A prerequisite for entry into the osteopathy program recognized by the OAO is a degree in science (physiotherapy, athletic therapy, massage therapy, etc) or equivalent. The combined education of the degree in science and the professional diploma in osteopathy allows for a deeper understanding of pathophysiology (injury causes) and a larger number of manual therapy skills & treatment techniques.

All of our osteopathic manual practitioners possess both a prerequisite degree in science (physiotherapy, athletic therapy, etc.) and have completed the OAO-required osteopathic education, giving them the highest educational standards in the province of Ontario.
Note: Osteopathic manual practitioners are not medical doctors. For any medical emergency please consult your physician or visit your nearest emergency room.
Join Our Team
We're looking for a skilled therapist to join our team! If you are an osteopathic manual practitioner looking to work with a dynamic and experienced team, click here.