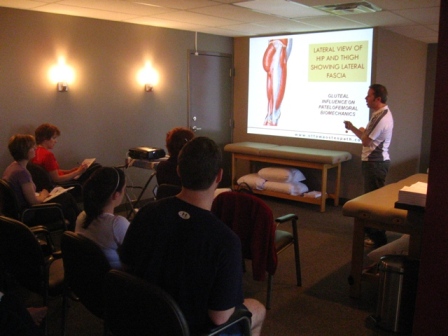 With over twenty years of speaking experience in sports medicine, rehabilitation and prevention, we are available to provide seminars on a range of subjects.
Our staff have previously spoken at high performance sports camps, McGill, Concordia and Carleton Universities, Collège Brébeuf, surgical hospitals in South East Asia, YMCA's, private fitness centres and The Running Room.
If your organization is looking to have a qualified speaker give a seminar on a specific topic, contact us by email at or by phone at (613) 521-3222.
Previous seminars
Carleton University Sports Medicine Rounds:
MANUAL THERAPY TREATMENTS FOR SPORTS CONCUSSION: A LOOK AT RESEARCH, AN EVIDENCE-BASED APPROACH AND CLINICAL OUTCOMES
March, 2012
Canadian Sports Massage Therapy Annual Conference:
HELPING ATHLETES NEGOTIATE SPORTS CONCUSSION RECOVERY
October, 2011
Pedorthic Association of Canada Annual Conference (Pedorthists and foot specialists):
THE LONG AND SHORT OF LEG LENGTH DISCREPANCIES: ASSESSMENT AND MANAGEMENT CONCEPTS
April, 2011
For Massage Therapists:
MUSCLE ENERGY TECHNIQUES
December, 2010
For Massage Therapists:
VISCERAL MANIPULATION
November, 2010
For personal trainers:
MASTERING THE ART OF NEW CLIENT ASSESSMENTS: FUNTIONAL TESTS AND THE SPORTS REHAB APPROACH
November, 2010
For personal trainers:
STRAIGHTENING OUT BACK PAIN
June, 2009
For personal trainers:
SPORTS MEDICINE TIPS FOR TRAINING CLIENTS WITH INJURIES
April, 2009