(For physicians only)
As part of our commitment to providing the most up-to-date evidence-based spine assessments, we are once again offering this continuing education course to Ottawa physicians, physicians in the sport medicine community, and the sport medicine fellows as part of the teaching program in the University of Ottawa Sport and Exercise Medicine Program.
This course is being offered to create a greater understanding of effective spine assessments and best-practice treatment planning. While the focus is a sport medicine setting, the mechanical tests presented will apply to most spinal conditions and patient ages. There is no fee for this course.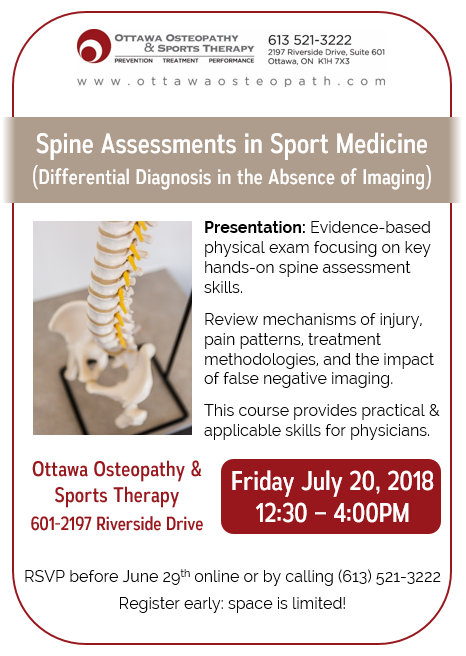 Speaker:
Richard Gregory, CAT(C), D.O.M.P.
Certified Athletic Therapist, Osteopathic Manual Practitioner
Date and Location:

Course Description:
This hands-on presentation will review the relevant anatomy, physiology and pathophysiology of spine conditions (including: disc degeneration, osseous foramenal/canal stenosis, acquired foramenal/canal stenosis, vertebral instability, spondylolisthesis/spondylolysis, intra-discal nerve ingrowth, end plate fracture, etc.) We will review pain types associated with each condition and identify key questions for the history taking. Visual and practical presentations will demonstrate the appropriate in-clinic special tests related to each pathology. Discussion of each test will include the relative specificity, reliability and validity as they pertain to the different spine pathologies.
There will be discussion of the limitation of current imaging available in Ottawa (supine conventional vs loaded functional MRI). Participants will learn evidence based assessment protocols which offer more guidance for treatment planning than with imaging alone.
It is hoped that this course will reduce unnecessary imaging requests, emergency room visits, and reduce the use of the out-dated term "non-specific low back pain".

Participants should bring appropriate clothes to be assessed for a back assessment. Typically this is shorts and sports bra/tank top for ladies and just shorts for men. Printed handouts and a digital copy of the presentation will be provided. There will be time for questions and case study review.
Attendance is limited and requires RSVP before June 29th, 2018 by clicking the button below, or by calling (613)521-3222. Should you have any questions, please email .